Advanced Curriculum
Lessons will be learned not only from trigger time, but also observing and evaluating environmental conditions that affect the flight of the bullet at long range.
Few venues offer the opportunity to train at such long ranges and none compare to the quality of instruction at the Bear Trap Range.  Contact us to set up a private group class with a party of 4 or more.
CONTACT US
The 3 – day course is designed for the analytical thinker at all levels of the precision rifle long – range discipline. We don't break the course into multiple levels asking you to return for the next or "advanced" phase. There is no information or practical range application withheld that will enhance your precision rifle skill set. From caliber discussion, optical adjustments, mathematical firing solutions, long range marksmanship and documentation, all essential subject matter will be taught in an outdoor classroom environment then immediately applied on the range.
Acquiring Minute of Angle or Milrad elevation adjustments for any given range is the easy part of long range shooting. The real challenge is evaluating ever-changing wind conditions and applying correct holds to your next round downrange. From day one and throughout the course, you will be immersed in a wind-calling clinic both as the shooter and as a spotter. This is a science where we combine external ballistics theory with the practical field application from 100 to 2000 yards. The limit to your range will be predicated on the caliber you bring to the course. We don't believe in "expensive noise" (match rounds going downrange without knowing why they were on or off your target). There are no secrets, only physics and range applications made simple.
---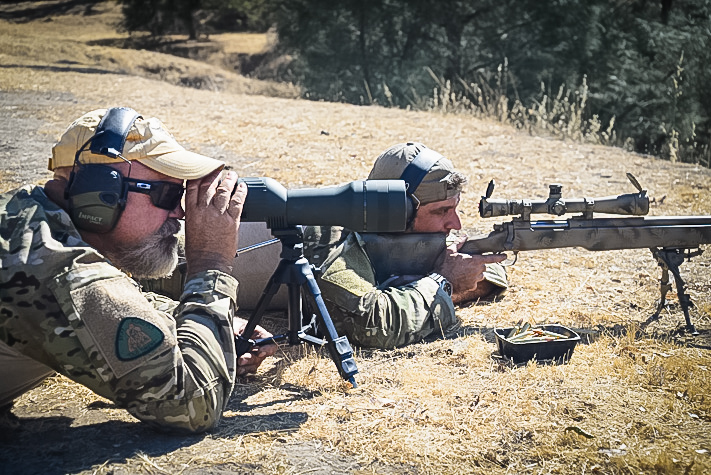 Location: 14 miles SW of Coalinga, CA
Course Costs:
Long Range Precision Rifle, 3 days – $1250
2018 Schedule:  February 17-19 and March 23-25
Long range rifles chambered in 6.5 Creedmoor, 260 Remington, 300 Win Mag and 338 Lapua can be rented for $35 per day excluding ammunition. Those renting the rifles are requested to purchase their own ammunition. Call for recommendations.
Point of Contact:
Jim Kauber
360 941 0280
Precision rifle (capable of 1 minute of angle accuracy or better)
Scope with MOA or Milradian adjustment target turrets and Mil-Dot or MOA variant reticle.
Rifle mounted bipod; because of elevated angles, recommend bipods be adjustable to 13" tall.
Cheek rest if your rifle does not have a stock with an adjustable cheek piece (Ex. Blackhawk, Hawktex)
Shooting mat
Spotting scope/stand (optional)
Small calculator (smartphone ok)
Recommend a reputable ballistic app; Shooter or Ballistic AE
Sand/bean bag(s) for butt stock support
Rifle Cleaning Equipment: One piece stainless steel or coated rod, 12″ longer than barrel length (no sectional rods), bore guide, bronze bore brush, nylon bore brush, patch jag, appropriate size cotton or flannel patches, powder solvent, copper solvent
Ear and Eye Protection
Rite in the Rain notebook
Pencils (pens will not write in the rain) You will be provided a course curriculum manual with ample room for taking notes in each chapter
Clothing appropriate for the week's weather (check Coalinga, CA prior to departing).
Ball cap or boonie hat
Rain gear (we will shoot in the rain if the weather dictates)
Sunscreen
300 rounds minimum
Recommended Local Lodging
If you're flying in, the closest International airport is Fresno Yosemite International Airport (FAT) 75 miles from Coalinga. Servicing airlines are: Aeromexico, Alaska, Allegiant, American, American Eagle, Frontier, US Airways and Volaris. All major car rental companies are located at FAT also.
Accuracy and Precision
We teach the precise employment of firearms through the development of solid fundamental techniques.  On target, everytime.
Speed
Speed is a byproduct of being smooth.  Smoothness is developed by going slow and practicing.  We teach the techniques to make you smooth and fast.
Safety
Safety is paramount.  We live by the "four principles of gun safety " and strive to instill this mentality into every client.
Client Experience
Lessons learned at The Site are enduring.  On the range and in the lodge, you are going to love training at The Site.
GET IN TOUCH WITH THE SITE
Contact us for more information on our courses offered, facilities, and how we can help plan your training experience.
SEND IT